Three Last-Minute Holiday Shopping Tips
by Margot Carmichael Lester, Staples® Contributing Writer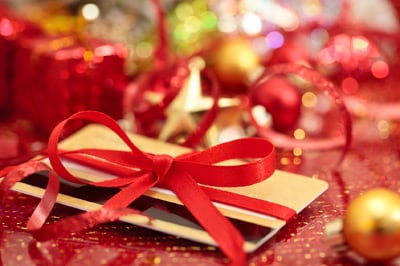 You've been feeling pretty smug about bypassing the hordes of people crowding your local retailers for the last few weeks. However, here you are in the final days of holiday shopping and none of the names on your shopping list are checked off. I see a lump of coal in your future.
Unless, that is, you can muster some holiday magic and get your act together.
The worst thing you can do now is panic and start buying a bunch of stuff willy-nilly. "With all the hustle and bustle of the holidays, it's very easy to forget things," cautions Bob Sadowski, APR, marketing manager for Acco® Brands, makers of AT-A-GLANCE® and Day Runner® products. "Be it gifts or related items, like wrapping paper and tape, something is sure to fall between the cracks — unless, of course, you have a comprehensive list."
Here are three tips to make your last-minute holiday shopping more successful:
Put Some Thought into Gift Ideas: "Even the hardest-to-buy-for person on your list has a hobby, an interest, or a favorite color, movie or sports team," says Deanne Marie, author of

Gift Giving for Busy People

. "It takes just a few minutes to really tune into your recipient. Think about what he surrounds himself with or where she spends most of her time. Ask yourself some additional questions, such as 'What's my favorite memory with this person?' or 'What has she always dreamed of doing?' and soon you'll be brainstorming ideas for unique and personal gifts." Need additional inspiration? Check out our Holiday Gift Guide.
Be Practical: Gift cards are handy when the item you want isn't in stock or has been battered by other shoppers to within an inch of its life. Don't downplay the value of gift cards. A research report from the Retail Gift Card Association notes that 71 percent of those surveyed feel "very satisfied" when they get a gift card. Of those, 69 percent indicated they'll use the card to buy "something needed" and 30 percent plan to use the card to buy something "they wouldn't usually purchase."

"A gift card is much more personal than cash and it absolutely is better than getting that crazy Christmas sweater from grandma," says Staples

®

senior marketing manager, Robin Vancura. Choose an eGift Card, like the ones from Staples, which are available online and via mobile, to give a present in the blink of an eye. "You can purchase a gift only moments before it's received," Vancura explains. Electronic gift cards can also help you avoid awkward holiday situations. "Imagine getting a gift from someone you didn't expect and then quickly pulling out your mobile phone to reciprocate," she notes. Learn more about Staples full gift card offering.
Be Tactical: Before you head out, scour your favorite local retailers Web sites to see what daily deals and sales they're offering. Your last-second shopping trip doesn't have to cost you. While you're surfing the Web, look for handy reserve online, pick up in-store options to keep you from having to brave the crowds of other procrastinating shoppers and so you'll know the item is going to be there. You'll be in and out faster than eight tiny reindeers. And, if you do find a great online-only deal, you can always order it and give the recipient a small item and a picture of the gift to come. Get the details on Staples Daily Deals.
Follow this holiday shopping plan and you'll have the gifts you need just in the nick of time. And that should make everyone feel merry and bright.