Need Techie Holiday Gift Ideas? Know the Latest Trends First
by Allan Hoffman, Staples® Contributing Writer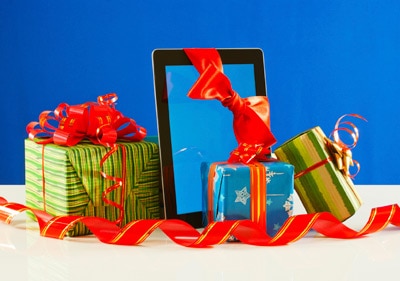 Technology gifts, from tablets to smartphone accessories, are all the rage now. Everyone wants them, from your 9-year-old nephew to your octogenarian grandfather. But narrowing down your techie holiday gift ideas can be a challenge. Sometimes it feels like you need a Ph.D. in Computer Science just to knock a couple items off your holiday shopping list.
Have no fear. You don't need an advanced degree to make holiday tech wishes come true. All you need is a little insight into the trends shaping current technology to know what items are actually worth giving (or getting).
Keep these trends in mind when getting ready to go shopping. Hopefully they'll help you with holiday gift ideas, but don't be surprised if you end up adding some new items to your own wish list.
Specs Don't Matter As Much
Buying a computer (or many other technology products) used to be all about the specifications: hard drive size, gigahertz of processing power, RAM, etc. But now, with so much powered via the cloud of Internet-based services, those specs matter far less. When buying a Chromebook or tablet, in particular, focus on what it can do — the design and functionality of its touch-screen software — and avoid obsessing over specs.
Screens Do Matter
The screen is everything when it comes to tablets and phones. After all, you use the touch screen both to control the device and to view what's on it. The names vary (HDX, Retina and so forth), but screen quality is a key differentiating factor these days, with many devices touting a pixel density capable of producing a wow-inducing display. Don't settle for subpar quality. In general, anything above 200 pixels per inch qualifies as high pixel density. But you also want a higher number (upwards of 300 pixels per inch, for instance) with devices you're likely to view closer to your eyes, such as a smartphone.
Their Phone Is Their Computer
We're increasingly able to use our mobile devices as full-fledged computers, especially when paired with an external Bluetooth® keyboard. That means you need both a durable case, as well as extra battery power — ideally, all in one product. An increasing number of mobile accessories are catering to the needs of professionals and others who view their mobile devices as essential, always-on tools, and these are great options for holiday gifting.
Camera Phones Call the Shots
"Cell phone photo" was once an insult, but no longer. Now professionals' smartphone photos appear in National Geographic and Time magazines. And no wonder: The latest phones are integrating camera technologies to rival traditional point-and-shoot cameras. If you're planning to give someone a phone, the camera is a key element; don't dismiss it as an afterthought.
Embrace the New World of TV
The phenomenon known as "cord cutting" (or doing without paid TV service) is gaining traction, and it's enabled, in part, by the programming available on our multifunction devices. Gaming devices and media hubs, in particular, are making it possible to do a lot more than just games, allowing you to make a Skype call one minute, watch Netflix the next, and then play a game — or possibly switch between all of the above in less than a minute.
Redefining Garage Band
Keyboards that connect to the computer have been around for years, but now they're being joined by other musical accessories. Digital drumsticks, DJ mixing stations and more can connect to smartphones and tablet computers for on-the-go music making. The garage bands of tomorrow will be able to practice anywhere in the house, without the need to lug a 5-piece drum kit into the living room.
Home Is Where the App Is
With relatively inexpensive digital sensors now built into everyday appliances, new tools, like the Staples® Connect Hub and App, are being created to enable a futuristic concept: home automation. These devices allow you to control your home, from door locks to thermostats (and even lightbulbs), right from smartphone apps.
Future Technology Trends
Choosing a gift for a technology trendsetter? Then you want to be on the cusp of the next big thing. Consider emerging technologies:
The 3D printer makes it possible to "print" actual objects, from key chains and jewelry to product prototypes. While it makes for a pricey gift, a 3D printer might also be a way for you to design and produce gifts right in your home.
"Wearable computing" (or "ubiquitous computing") will take having your computer/smartphone with you all the time to the next level. With smartwatches, Google™ Glass and related technologies, everything that's available online — friends' photos, newsfeeds, text messages — will be available with a glance, anytime or anywhere.
These technology trends will help you choose the right holiday gift ideas for techie friends and family. And while you're at it, consider some of the latest tech gadgets and accessories as a special gift for yourself.
Shop the Technology Mentioned in This Article: