Holiday Planning: 10 Apps to Simplify Your Season
by Allan Hoffman, Staples® Contributing Writer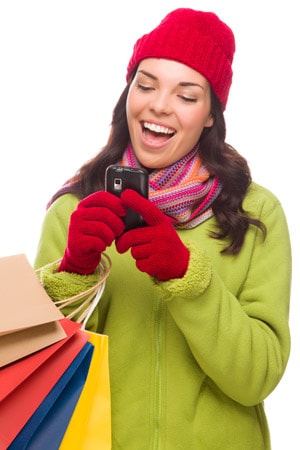 Planning for the holidays can sometimes seem like an elaborate undertaking. With meals to prepare, guests to house and gifts to buy, it can often feel as if a complex spreadsheet is needed just to keep you from losing your mind (or the car keys).
While this may be hard to believe, your holiday prep shouldn't be all flow charts and no fun. Armed with a tablet computer or smartphone, and some easy-to-use apps, you can streamline your holiday preparations, reduce the stresses of the holiday season and actually get in the spirit.
Wherever you are, just slip out your mobile device, consult your shopping list or check product reviews, and then you're on your way. Here are 10 apps and Web sites to help you get ready for the holidays and celebrate in style, grouped by category.
Shopping & Gifts
TGI Black Friday: If you view Black Friday as the official kickoff of the holiday season, then this app is for you. The app (for iOS and Android™) lets you view Black Friday ads, share deals on Facebook and Twitter, and search for thousands of deals for the biggest shopping day of the year.
Gift Planner: Here's a way to keep your gift list manageable (and accessible). The app lets you not only track gift ideas, but also the purchase status of each item, package tracking numbers, and your holiday budget. You can even save photos of wrapped packages to avoid losing track of what's in each gift-wrapped box. A database-powered wonder, the app (for iOS) lets you sort your list by event, date, store, recipient and price.
Party Planning
Doodle: You may think Doodle, an app for scheduling, is just for arranging business meetings. Not so. As anyone who's ever coordinated a multigenerational holiday feast knows, getting everyone there at the same time is part of the challenge. With the Doodle app (for iOS and Android), you can poll friends and relatives to help in your party planning.
Evite: Once you've got a date for your holiday bash, you need to send out invitations. Keep things simple and streamlined with the Evite app (for Android and iOS), which lets you keep track of RSVPs and comments on the go.
Allrecipes: You may already have a list of holiday faves for the festivities, but maybe it's time to mix things up. Allrecipes will oblige, with apps (for Android, iOS and Windows®) to help you decide whether to try your go-to fruit bread recipe or if you should try something new, like Icelandic Christmas cake or Santa's chocolate thumbprint cookies.
Celebrate the Season
Grinch Edition of the Dr. Seuss Camera: Want your photo alongside the Grinch? You've got it! The app (for iOS) is a fun way to use your tablet's camera and send a fun and quirky holiday message.
Christmas Bells: You may not have your own set of Christmas bells to play as you sing along to carols, but no matter. Now you can have handbells on your tablet with the Christmas Bells app (for Windows). The app displays bells and guides you in playing tunes such as "Jingle Bells" and "Joy to the World." Your neighbors will be impressed by your high tech caroling.
Light My Fire: A Hanukkah App: From the Jewish Museum, here's an app (for iOS) to light your Hanukkah candles with a virtual version of a menorah from the museum's collection. Forgot the blessings? The app's got you covered with both English and Hebrew versions.
Kwanzaa: The app (for iOS), a companion to the Venus Jones album, "Kwanzaa: 7 Days, 7 Principles," aims to help you affirm the principles of Kwanzaa, such as creativity and unity.
Christmas Yule Log: Talk about simplicity. Now you don't have to chop wood (well, you probably weren't doing that anyhow) or put a match to kindling in order to have a crackling fire. Sure, this virtual Yule log isn't the real thing, but as an app (for Android), it's a fun way to celebrate and have the vision of fire, complete with crackling noises, as you unwrap the day's gifts.