Holiday Gift Guide: Gift Ideas for Everyone on Your List
by Margot Carmichael Lester, Staples® Contributing Writer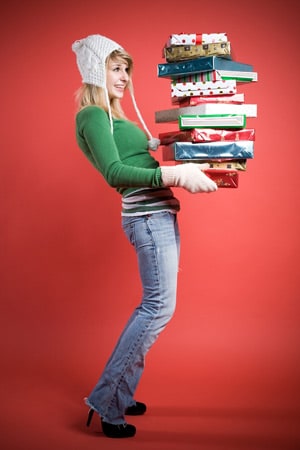 You've got your holiday shopping in the bag, right? Ok, so maybe you're not fully prepared for another season of giving, but don't stress out, we're here to help. We've got unique gift ideas for everyone on your shopping list — from your child's favorite teacher to your new boss!
Like any stressful task, getting started is half the battle when it comes to gift shopping. We recommend beginning with an action plan. "Create a template and fill it in as you discover gifts for each recipient," suggests Trae Bodge, a professional shopping expert and a senior editor for the blog The Real Deal by RetailMeNot. "There's nothing worse than wondering, 'what was that item I saw that was perfect for Mom?' This is also a great way to keep track of things that you want, in case anyone asks or you're in a position to treat yourself on a rainy day."
After you get organized, it's time to get going. Use this Holiday Gift Guide to find gifts for everyone on your list.
Gift Ideas for Coworkers, Bosses and Teachers
Perhaps the most challenging recipients on anyone's list are coworkers, bosses and teachers. Ease your anxiety with gifts that any professional would like to receive. A Yankee Candle (like the fresh, seasonal scents) is a nice seasonal token, perfect for teachers and coworkers. If you know that they love their Keurig®, then a set of K-Cups® would be a great way to perk up their holiday. You could also go the personal route and choose your best photos to create calendars and other photo gifts. You can get great ideas from the Staples® Copy & Print Center.
Still unsure? Pick up a gift card. "I buy gift cards for people who I don't know very well, such as my kids' bus driver, because I would have no clue what to get her," says Illysia Neumann-Loreck, a New York-based fashion stylist and publisher of the blog MadlyChic.com. And Staples gift cards can prove very helpful in the classroom or office.
Technology Gifts
The latest tech gear, from laptops and tablets to phones and eReaders, are always high on everyone's list. While the latest versions of the Kindle Fire, Apple® products and Google™ Nexus 7 tablets are all quite popular, don't overlook the power of accessories. Consider the Mophie Juice Pack Helium for the iPhone® 5 or the OtterBox® Case for the Samsung® Galaxy GS4 — both practical options.
Music and Entertainment Gifts
Ensure that the beat goes on well into the new year with gifts that they won't be able to get out of their heads. Music lovers will appreciate headphones or portable speakers, like the new Pill speaker from Beats. Others might dig a pair of digital drumsticks or a gaming system. And the youngest rock stars on your list will love an educational toy from the Melissa & Doug collection.
Unique Theme Gift Ideas
Professional organizer Julie Starr Hook likes to do themed gifts, especially for people who aren't the easiest to shop for this time of year. "Go for several smaller gifts rather than one large gift — the person will like at least one or two of the items," Hook says. Here are some themed gift ideas:
A Buxton tote filled with a coordinating notebook (check out the Arc quilted notebooks) and a matching phone case
A bottle and glass marker, Chill-It Wine Bag and Ghirardelli

®

chocolates
A set of personalized note cards with envelopes and a photo book designed by you.
Just-in-Case and Just-for-Fun Gifts
No matter how much advance planning we do, there's always someone we forget. That's why Hook suggests picking up a few generic gifts, "items such as nuts, chocolates, wine, gift cards — because most people like these," she says. "You can even wrap them ahead of time. [Then] you can grab them at a moment's notice." Just remember to note what's inside so you know what you're giving.
Finally, don't forget the most loyal recipients on your list: Fido and Fluffy. Winter is coming, so something they can warm up with is always a good choice; think microsuede pet bed would ensure their comfort and joy for the coming months.
"Have a clear picture of what you want to buy each person," suggests Amy Carlson, a spokeswoman for 1928 Jewelry Company in Burbank, California. "Research products online before starting to actually shop — this will stop you from aimlessly wandering around and getting flustered by your many options."
Shop the Gifts Mentioned in This Article: