Ask These Questions Before Buying a Tablet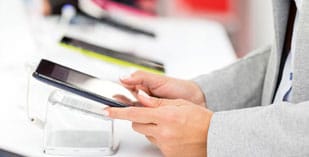 If you're thinking about buying a tablet, you know there are myriad options on the market. Asking and answering a few questions before you start shopping helps you choose the device that's best for you.
Do I need a tablet if I already have a laptop?
Sometimes you just don't want to lug your entire computer with you whether you're on a business trip or on vacation. In those cases, you need a tablet, which provides the functionality you want without the size or weight. Most of the time, thanks to web-based tools and apps, you'll still be able to keep up with work and other obligations. That said, though tablet editions of your favorite business and productivity software have some of the same functionality, some mobile versions aren't as robust and full-featured as their laptop or desktop counterparts. If that's a problem, opt for a convertible, which combines the best of the laptop and tablet experiences in one device.
Do I need a tablet if I have a smartphone?
Today's phones are amazing, but they're not the most convenient devices for working with personal and business information. Tablet screens allow information to be viewed and used much more clearly and easily than on a smartphone, as anyone who's struggled to read spreadsheets, PDFs, web pages or books on a 3" phone screen can attest. You can also make voice, video or conference calls using VoIP systems, such as FaceTime or Skype on tablets. So if you want to do more on the go than send a few emails or play a few games, buy a tablet.
Which operating system should I choose?
The easy answer here is to choose the one that matches your laptop or phone's system, which ensures easy "interoperability." That's a fancy way of saying that if you need your devices to work together or if you have favorite apps and software that's OS-dependent, select a tablet that uses the same one. There are plenty of options featuring Windows®, iOS and Android™.
How much memory do I need?
You can store all the files and photos you want in the cloud, but you still need as much onboard storage/memory as you can afford. Why? Most tablets have 16GB to 64GB of space, but just one 2-hour HD movie can take up about 3GB of that. Music, games, photos, books, apps and other files eat up space, too. If you're unsure of how much memory you'll need down the road, consider a device with a slot for an external memory card so you have some flexibility.
What size tablet should I buy?
Tablets come in small, medium and large sizes, all of them fully featured. The model you go with comes down to personal preference and how mobile you want to be. Mini tablets are easy to stow, featherlight and easy for small hands to hold. Larger tablets are a little heavier, but at 12" they provide the most laptop-like experience. Think about how and where you'll use your tablet and choose the best for those scenarios.
How much battery life can I expect?
Battery life varies between tablets, but the average is about 10 hours. If you plan to be unplugged for long periods of time, this is an important factor to research carefully. Choose the longest battery life you can afford, and consider purchasing a battery pack accessory that lengthens life when you're on the move.
Do I need cell service or is Wi-Fi enough?
Think about the places you'll use your tablet and what you'll use it for. If you'll mostly be in places with wireless networks, then you can stick with a tablet that only has Wi-Fi. But if you're always on the go and need the Internet for anything from web surfing and email reading to accessing a work computer, then you'll need 4G or 3G service, which will increase the price of your tablet and add a monthly cell service charge, too. You might be able to use your phone as a mobile hotspot, but talk to your carrier about potential charges and hiccups before you make a final selection.
Tablets are amazing devices that bridge the gap between smartphones and laptop and desktop computers. Carefully consider these factors to buy the perfect tablet for your specific needs.
Learn More About the Hottest Tablets
Click on the tablets below for more information.
Shop our entire assortment of tablets, tablet accessories and protection plans now!