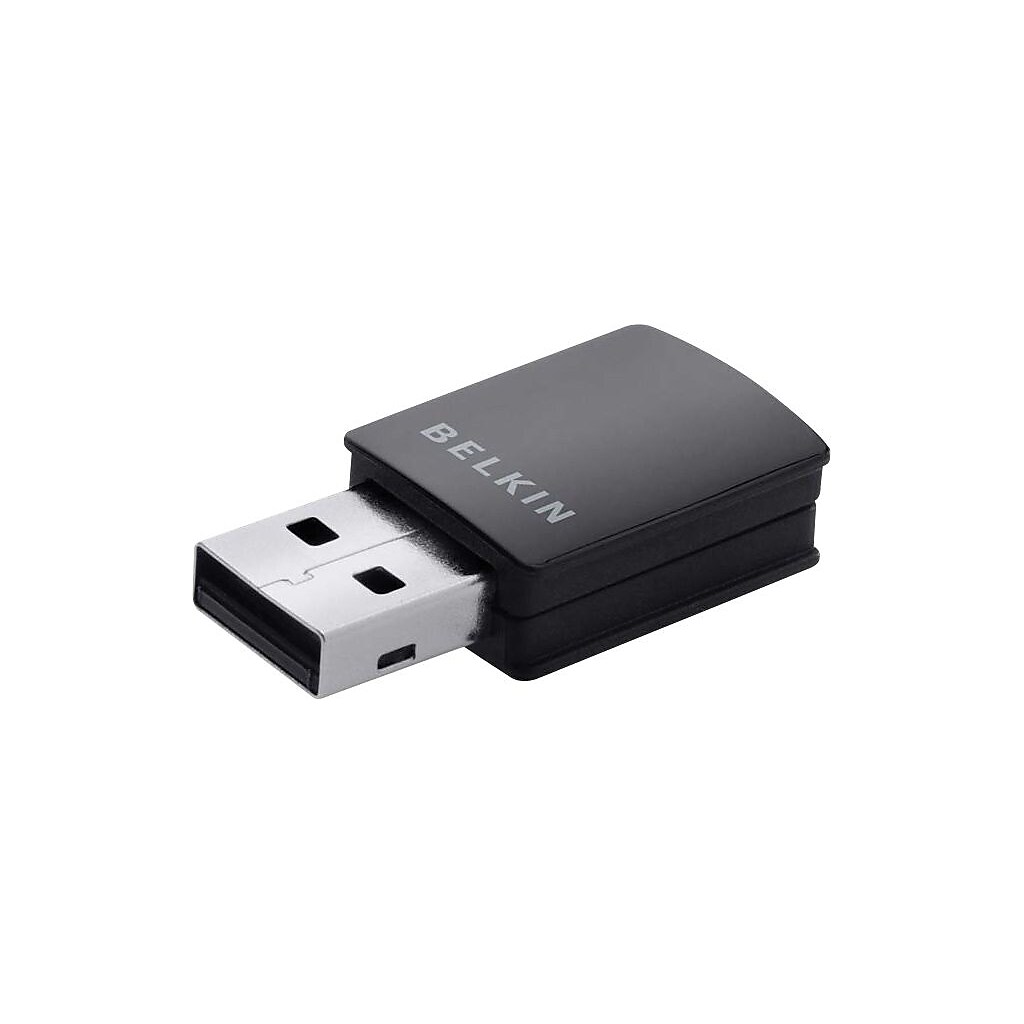 Belkin N300 Wireless USB Adapter (F7D2102)
Item #: 927375
| Model #: F7D2102
This item is out of stock for delivery
About this product
The Belkin N300 Wireless USB Adapter gives your laptop a fast Wi-Fi connection and features an easy setup.
Designed for easy portability, the Belkin N300 Micro Wireless USB Adapter offers a fast, secure way to connect your laptop, notebook, or desktop computer to a Wi-Fi network. This adapter features a lightweight, compact design that can easily slip into a pocket or a handbag, making it ideal for students and business professionals who require Wi-Fi access on the go. With transfer rates of up to 300 Mbps, this adapter delivers enough speed to support basic applications like video streaming, web browsing, and large file downloads. Its Wi-Fi Protected Setup (WPS) feature lets you connect the adapter to a network at the push of a button.
Delivers speeds up to 300 Mbps

WPA, WPA2, and WEP encryption guard your sensitive data

Single-band 2.4 GHz reception

WPS security for effortless connections

Compact design ideal for travel and mobility

Backward-compatible with routers that use 802.11b/g Wi-Fi standards

Easy setup with minimal hassle

Includes setup CD and quick installation guide

Compatible with Windows XP SP3 or greater, Windows Vista, or Windows 7

Backed by a two-year limited warranty


Fast Data Speeds for a Smooth, Reliable Connection
When it's connected to a Wireless-N network, the Belkin N300 Wireless USB Adapter enables data transfer speeds as fast as 300 Mbps. You'll be able to surf the net smoothly, watch videos, and chat without experiencing significant slowdown.

Compact Design Ideal for Travel
The Belkin N300 adapter has a slim, compact design makes it an ideal accessory for travelers and commuters. The adapter is small enough that you can leave it plugged in even when your laptop or notebook is stowed for travel. It plugs into your laptop seamlessly without obstructing other ports.

WPS Button for Fast, Easy Setup
The Belkin N300 Wireless USB Adapter supports WPS connections to ensure an easy, secure setup. Simply push your router's WPS button and wait for the adapter to establish a connection, then you can connect your laptop to the network in seconds. The adapter also installs quickly and easily, thanks to the included setup CD.

Package Contents
Belkin N300 Wireless USB Adapter, setup CD with user manual, and quick installation guide.