Breakroom Essentials Beyond Food and Drink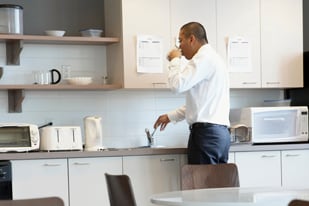 Your breakroom is about more than food and drink. It's a hub where business happens, even under the guise of taking a break from daily tasks. Workers forge relationships and partake in out-of-the-box, cross-functional thinking when they step away from their workstations.
But in order for all those great benefits to happen, you need to make sure you have the basic breakroom essentials stocked and the methods for keeping the space in shape.
Keep the Breakroom — and Office — Clean
Not only does a messy breakroom promote the spread of germs, but it creates friction between neatniks and their less diligent co-workers. A good supply of cleaning products, an established cleaning regimen and shared responsibility (with consequences) are key to keeping the breakroom from becoming a battle zone.
Follow this advice for keeping the breakroom as clean and germ-free as possible:
Know the difference between cleaning and disinfecting. It's important to read and follow the directions closely. Cleaning with warm, soapy water is sufficient for most breakroom surfaces and appliances, but if you want to use cleaning supplies, be sure to verify that they're safe for the material and the area. Disinfecting is different from simple cleansing; it requires products like Lysol® or Clorox® brand wipes that contain antimicrobials that actually kill germs — not just remove them. Products making this claim carry a U.S. Environmental Protection Agency registration number on their labels; green cleaning products display the EPA Design for the Environment logo.
Follow the directions. It's important to read and follow the directions on your supplies closely. For example, many disinfectants need to stay on the surface for several minutes before being wiped off. Many people wipe off too soon, making the solution less effective.
Understand surfaces. Read product labels carefully to ensure cleaning ingredients won't harm surfaces. For instance, some solutions are not recommended for porous surfaces like wood, or certain plastics. It's also critical to make sure products are safe to use in food-preparation and serving areas. Many are not, and others require you to rinse off the area before using it, so read and follow label directions carefully. Additionally, check the ingredients list carefully. For instance, not all Clorox products include bleach.
Establish a regimen. Custodial staff generally handle things like removal of trash and recycling bins, mopping and carpet cleaning. But this doesn't mean employees can't pitch in. Daily tasks include wiping down sinks, counters, tabletops and appliance exteriors with Lysol and Clorox wipes; rinsing off the microwave interior with soap and warm water; running the disposal; loading and unloading the dishwasher/washing and drying dishes in the sink; sweeping the floor; and emptying the coffeemaker. Weekly tasks include emptying the fridge completely and washing down the interior (best done on Fridays). Monthly tasks include cleaning the coffeemaker and disinfecting all surfaces. A quick wipe of spills makes a huge difference in health and safety. And if the carpet's involved, call maintenance immediately.
Create shared responsibility. To make sure the breakroom stays clean, develop a schedule in which specific employees are held accountable. When everyone pitches in to keep the breakroom clean, it's a more pleasant place to be and germs are less likely to be spread.
Store cleaning supplies where everyone can access them. Using the breakroom area to keep cleaning supplies that all employees can use for cleaning other parts of the office, like individual workstations, makes a lot of sense. This way everyone will have access to the tools they need to keep the entire office clean and germ free.
Make the Breakroom Safe
Implementing smart health practices will keep the breakroom and your entire office safe. That includes proper labeling and storing of items like cleaning products and first aid and fire safety supplies.
Store cleaning products separately from food and food service items. Be sure to read label directions for proper storage of even the most common cleaning products, and make sure containers are properly closed to prevent accidental spills that could lead to illness or injury. Similarly, be sure that cleaning products stored out of their normal containers (like bleach in a spray bottle) are clearly marked to avoid accidental ingestion. While most heavy-duty cleaners are probably kept in the janitorial closet, if hazardous cleaning chemicals are stowed in the breakroom, the Occupational Safety and Health Administration (OSHA) requires you to use labels and post safety data sheets for exposed employees and provide training in how to handle the products appropriately. Requirements change, so get the latest here.
Use clear labels. It seems obvious, but it's important to label food items that are for personal and group use. Any items that contain potential allergens like nuts or gluten should have that clearly noted as well.
Provide a first aid kit and other safety supplies. Having a fully stocked first aid kit (including over-the-counter medications like ibuprofen and acetaminophen) helps employees feel safer and provides immediate relief for small on-the-job nicks and cuts. Check the kit each month to replenish frequently used items, especially Band-Aid® and other adhesive bandages, and antibiotic ointments or creams, and those carrying expiration dates. Click here for OSHA's best practices for workplace first aid.
Provide proper access to care. In addition to OSHA-mandated training for chemical handling, employers are required to "ensure prompt first aid treatment for injured employees, either by providing for the availability of a trained first aid provider at the worksite, or by ensuring that emergency treatment services are within reasonable proximity of the worksite." "Reasonable proximity" means that emergency care is available within no more than 3 to 4 minutes, from time of dispatch to arrival at the injured party (not the front door of your business). If you fall outside the time zone, provide proper first aid training for employees, which is available from the Red Cross and the National Safety Council. The American Heart Association also offers training for rapid response to cardiac arrest.
Install and maintain fire extinguishers. Even in buildings with sprinkler systems, fire extinguishers are valuable. The National Fire Protection Association suggests having one 2-A fire extinguisher installed for every 3,000 square feet of office space. Additionally, OSHA requires a unit within 75 feet of each employee. Provide proper training on how to use this equipment, perhaps as part of employee orientation, plus an annual refresher. Create an annual schedule to ensure extinguishers are fully charged. While you're at it, check smoke alarms and carbon monoxide detectors, and ask the fire department to help you run a fire drill.
Promote good health practices. In addition to creating and enforcing a cleaning regimen for the breakroom, encourage employees to practice good personal hygiene. This is important every day, of course, and especially during cold and flu season. Make soap and antibacterial gel, or other hand sanitizer, available and insist that employees use it frequently, especially after sneezing, coughing, blowing noses or using the bathroom. This simple habit makes a huge difference in fighting the spread of germs like the flu virus, which can survive between two and eight hours on surfaces. Using tissues and disposing of them immediately also cuts down on airborne germs, as does using hands-free soap and paper-towel dispensers.
Keep Your Team Healthy
Speaking of good health practices, your efforts at reducing germs in the breakroom will only be marginally effective if employees don't extend these habits to their personal work areas. That's because germs can be spread from pretty much anything we touch! The American Cleaning Institute recommends these practices for mitigating the germs hanging around the cube or office:
Routinely wash your hands with soap and water upon arriving at work and several times a day, including before and after lunch or breaks, after using the restroom, after reading newspapers or magazines, and in between meetings. Wash vigorously for at least 20 seconds.
Use a surface cleaner or disinfecting spray or wipes to wipe down your desk, telephone and office or restroom door handles daily.
Use a disinfectant spray in your office garbage can.
Find out the cleaning guidelines for your computer keyboard and monitor and follow them regularly. Use an air duster to get between the keys. Wipe your mouse down at the start of each day with a wipe or cloth and all-purpose cleaner.
Wipe down the buttons and touch screens on the printer, copier, fax and other office equipment every day.
If employees are sick, encourage them to stay home.