Whether you're opening your doors for the first time or giving your store a new look, it's important to choose the right fixtures for your floor plan. While you may be getting a great deal on recycled fixtures from your friends down the street, you may end up hurting your business more than helping it if they're not the right fit for your store. Knowing what fixtures are best suited for your store floor and where to put them will help you gain an advantage over the competition.
Step one is to look at your floor plan: Where is your register? How is your store sectioned? How much floor space do you have?
Step two is to think about the right fixtures for that floor plan: Do you have floor space for freestanding fixtures? Can you use wall-mounted fixtures? What stock goes on what fixture, and where?

Floor Plan 101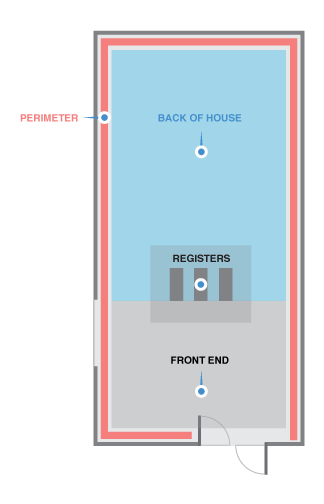 Around the Register
No matter where your register is located, the surrounding area is prime real estate for your most valuable products. Keeping expensive items within eyeshot of your register means that you or your employees will have a watchful eye on the merchandise at all times. In addition, close proximity to the register ensures that anyone browsing those products will have to walk right past you to get a good look. Keep register area displays neat and tidy so you don't lose sight of what products you're showcasing. And make keeping the register manned at all times a priority.
The Front End
The front end of your store will host the most foot traffic, if for no other reason than it's where customers enter and exit. With heavy foot traffic comes increased browsing and hopefully, increased user-interaction. Using short freestanding fixtures in this space will allow you to see who is coming in and going out of the store and what products customers are interacting with. Making an investment in durable fixtures for this space is also a good idea, so they can withstand frequent hands-on browsing.
Back of House
Smart retailers will stock consumables at the back of the store to drive foot traffic. Guiding customers to the rear of your store increases the amount of product they have to walk past in order to get to the purchase they came in for. Maximize fixture space back here so you can stock more product and meet the demand of high traffic. To help protect back of house assets, use taller fixtures that stock product at eye-level or above so they're visible from your perch at the register.
The Perimeter
For any retail small business, your walls are some of your most valuable selling space. Not only is the space immense, the fixtures that fit that space are affordable, customizable and easy to install. For a small shop in particular, where floor space is scarce, it's absolutely essential to invest in your perimeter.

What to Put Where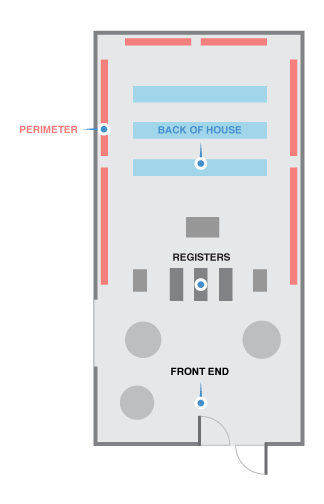 Around the Register
Tabletop displays or glass display cases are ideal for the register area. They're true touch-and-feel fixtures with strong visual merchandising appeal. But because they cater to user-interaction they can require a fair amount of upkeep, so keep in mind that customers will likely be moving and inadvertently rearranging the products displayed there. Retail stores that sell jewelry, accessories, small electronics or other valuable items should take advantage of display cases around the register displays. An additional note: If you've got room on your check-out counter to display some products, don't be afraid take advantage of it.
The Front End
Front-end fixtures will also see a lot of customer interaction since they're the first point of contact after shoppers cross your store's threshold. Make sure these fixtures are sturdy enough to face the wear and tear of hands-on-browsing. If you run a retail store that sells clothing or bags, rounder racks or 2-way and 4-way fixtures are best suited for this space. If you run a retail store that sells smaller merchandise that is highly consumable, consider pegboard or slat wall fixtures that can hold ample product with customer-friendly accessories.
Back of House
Back of house fixtures should be capable of holding a lot of product that isn't too high in cost: Your retail store's consumable items. Sturdy shelving fixtures, or gondolas, are great for back of house systems. If your store is big enough for multiple shelving units to create aisles, remember this: your aisles should be a minimum of 36" wide to allow for 2-way traffic, and provide customers with ample space to step back and view your product selection.
The Perimeter
Wall-mounted fixtures are arguably the most affordable and versatile fixtures you can invest in. They're often sold in systems that consist of a base fixture (what you mount to the wall) and accessories (how you mount your products) that help you vary your display without changing the entire system. Wire grid, slat grid or outrigger fixture systems are your go-tos for perimeter fixturing. Common accessories for these fixtures include shelves, hooks, display bins and literature holders.