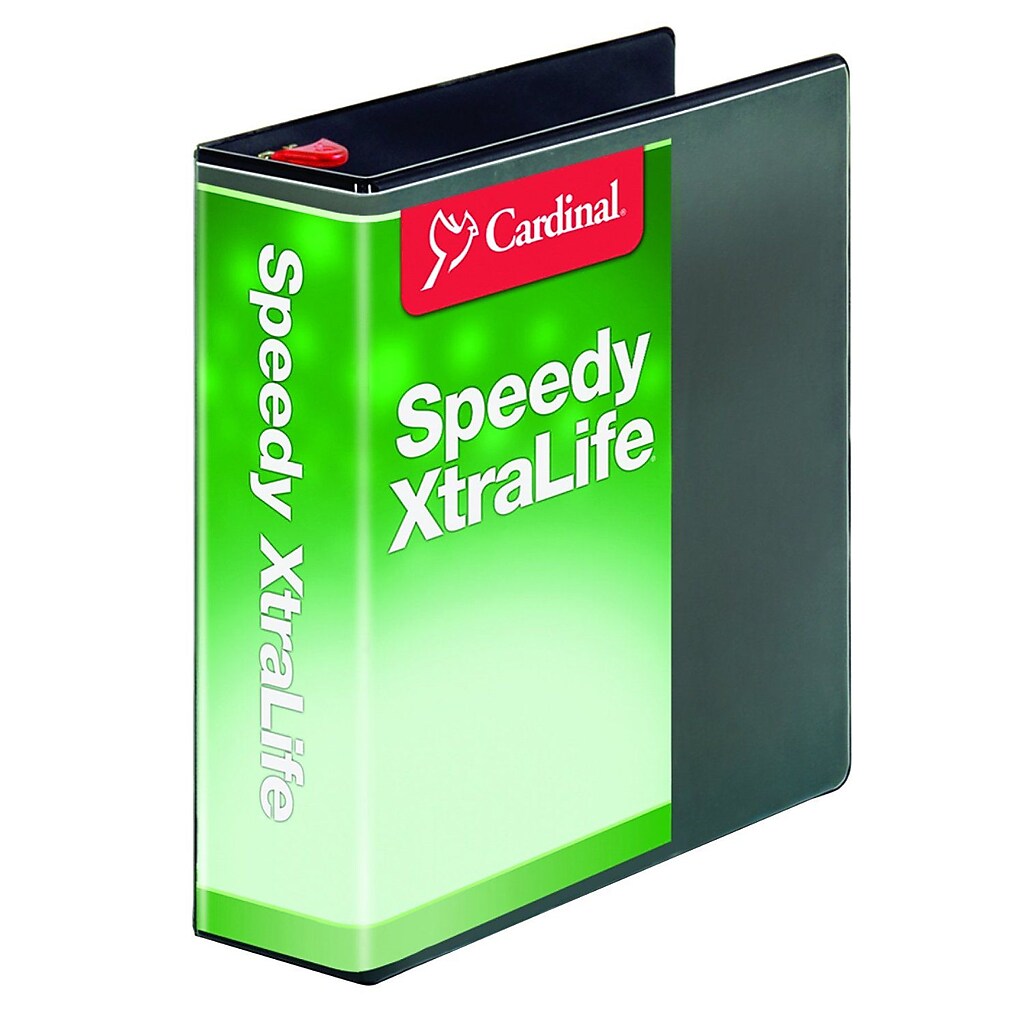 Cardinal XtraLife Heavy Duty 3" View Binder, Black (CRD 59131)
Item #: 1268169
| Model #: 59131
This item is out of stock for delivery
About this product
Organize documents with this Cardinal heavy-duty binder, which offers a nonstick cover and clear overlay that's ideal for quick customization and easy labeling.
This Cardinal heavy-duty D-ring binder keeps documents safe and organized. Featuring a single clear overlay on the cover and spine, it allows for easy three-sided customization before important meetings. Each of the two horizontal pockets inside the front and back covers has the capacity to hold up to 40 loose sheets, providing more space for last-minute additions to your presentation. Made of durable and eco-friendly materials, the Cardinal Speedy XtraLife Slant D-ring binder features GelTab triggers that make the rings easy to open and close.
GelTab triggers for easy opening and closing

Nonstick overlay for quick customization

Made from PVC-free, eco-friendly materials

Overlay along the covers and spine lets users customize the binder with a single custom insert

Designed for durability, this Cardinal 3-inch binder protects sensitive documents in extreme temperatures and harsh working conditions

Locking Slant D-rings hold more paperwork than standard round rings for efficient storage and organization

Cardinal heavy-duty binder features two horizontal pockets, providing additional space for loose sheets

Cardinal Speedy XtraLife Slant D-ring binder comes with a 1-year guarantee against materials splitting along the hinge or seams
Convenience
Large enough to hold hundreds of sheets, this Cardinal 3-inch binder is still compact enough to fit into a backpack or briefcase. Use it to carry sensitive documents to the office or outdoor work site, or stack it on top of a shelf or inside a desk drawer.

Versatility
Featuring a clear nonstick overlay on the front, back and spine, the Cardinal Speedy XtraLife Slant-D ring binder is customizable for professional proposals and presentations. It also works well for storing documents that are rarely needed on a daily basis, like annual reports, old bills and business letters. Use one to keep all your paperwork safe and organized at the office or at home, and another to carry important documents to business meetings and conferences.

Durability
Though it's made of recycled PVC-free materials, this Cardinal heavy-duty binder is durable enough for a range of tough working conditions. Capable of resisting extreme cold, the sturdy cover and chipboard core keep important documents safe in temperatures as low as minus 50 degrees Fahrenheit. It comes with a full 1-year warranty that covers splitting along the seams and hinge.