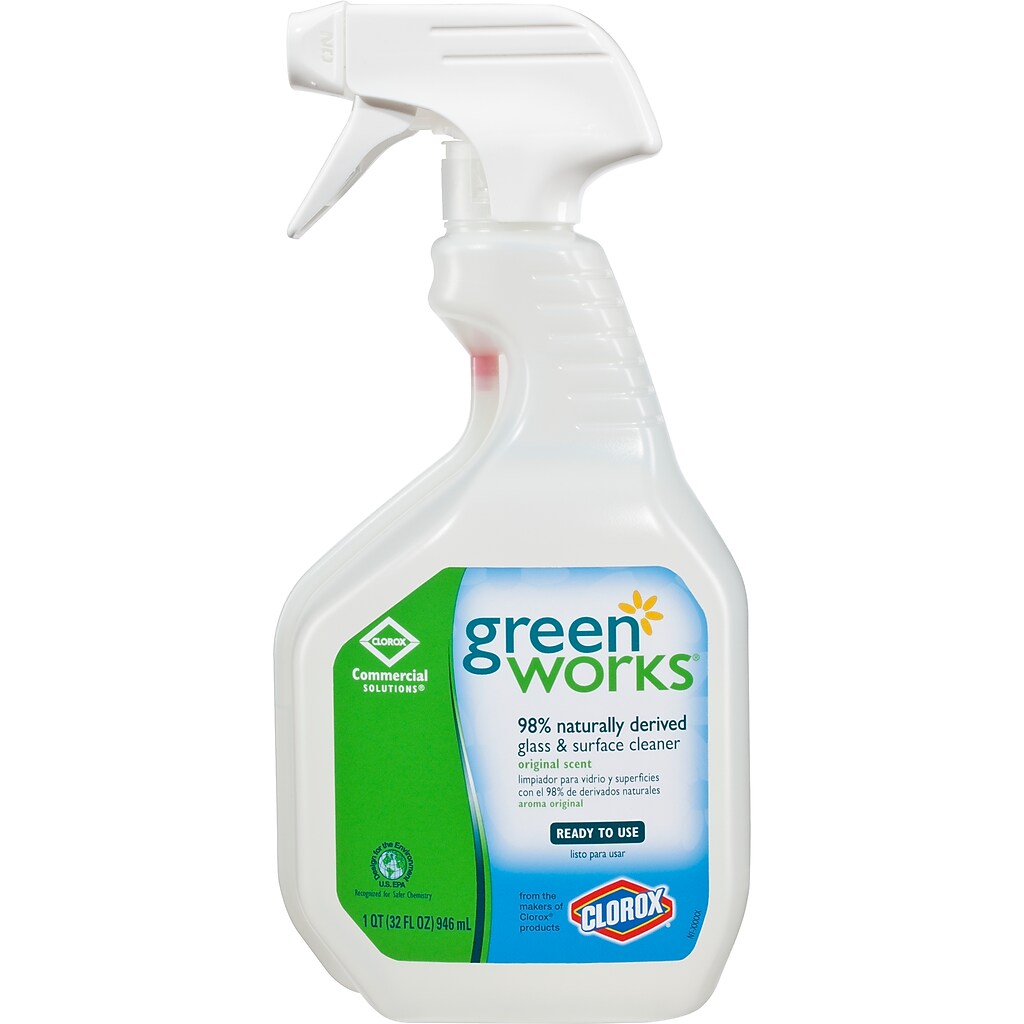 Green Works Glass & Surface Cleaner, Spray, Original, 32 Ounces (00459)
Item #: 732220
| Model #: CLO00459
This item is out of stock for delivery
About this product
Green Works Glass & Surface Cleaner cuts through tough dirt and filmy residue with streak-free shine results.
Green Works Glass & Surface Cleaner is made from 98% naturally derived biodegradable ingredients that cut through tough dirt and filmy residue without any harsh chemical fumes. This powerful cleaner is ammonia free and safe to use on a wide variety of surfaces throughout the workplace, including glass, mirrors, appliances and stainless steel and sealed granite. From Clorox Commercial Solutions, this easy to use cleaner quickly removes dirty messes and leaves surfaces with a sparkling clean streak free shine. The Smart Tube technology bottle lets you spray this product down to the last drop. It's ideal for use in schools, offices, day care centers, restaurants and commercial kitchens. With Green Works naturally derived cleaning products, you get powerful cleaning done naturally.
32 ounce spray bottle, Original Scent

98% Naturally Derived ingredients

Cuts through tough dirt and filmy residue on multiple surfaces

Cleans to a shine without harsh chemical fumes or residue

Delivers a streak-free shine on glass, mirrors & stainless steel

Contains no ammonia

From Clorox Commercial Solutions
Usage Directions:
Turn nozzle to ON position. Spray soiled areas with cleaner. Wipe with a paper towel or cloth. For heavily soiled areas, repeat as necessary. To Spray Every Drop: Tilt bottle at a downward angle while spraying. To Refill: Twist trigger counterclockwise and pull up to remove. To replace trigger, align red tip tube on trigger over opening inside bottle. Press down on trigger until it clicks into place.
Ingredients: Filtered Water, Plant-based Cleaning Agent (Non-ionic Surfactant: Alkyl Polyglucoside), Corn-based Ethanol, Fragrance with essential oil, Glycerin, and Soda Ash. Contains no phosphorus. Contains no bleach.
Warnings:Keep out of reach of children.

Safety Data Sheet