Navigate to Top
Whether you want to read memory cards you have stored on an iPhone®, iPad®, or another portable device from Apple®, an iOS card reader is a necessity. Apple products do not have the micro-USB ports that many other tablets and phones use, so they are compatible only with iOS memory-card readers.

Compare Single-Card iOS Card Reader Models and Multi-Card Models
Some models fit one specific type of memory card, while others accommodate several different card models. Many single-card options fit micro-SD cards, allowing users to easily transfer pictures from cameras. Single-card readers are space efficient. This minimizes the risk of port damage and makes it easier to use the reader on the go.

Multi-card models fit several types of memory cards, including SDHC cards and SD cards. This type of reader is ideal for those who get pictures and files from various sources, because it doesn't require that everyone use the same type of memory card.

Sleek iOS Card Reader Models Maximize Phone Functionality
Apple phones and tablets have built-in memory, and unlike other popular phone and tablet models, they do not have expandable memory slots. With an iOS memory-card reader, users enjoy the benefits of expandable storage. A card reader offers a foolproof way to transfer data onto a phone or to remove data from a device, which frees up space for apps and documents. As a result, users remove unnecessary files without needing immediate access to a computer.

Use iOS Card Reader Apps to Streamline the Data Transfer Process
With many memory cards, you can transfer photo and video files without an extra app. Contacts, text messages, and other types of data, on the other hand, live within Apple phones and tablets. For that reason, users need an app to access this data and transfer it to a memory card. Most iOS memory-card readers come with a free app that lets users choose which data they want to save.

What Types of Data Can Users Transfer With an iOS Card Reader?
Photo and video files are the largest files on most phones and tablets, and memory card readers transfer these files without issue. Card readers that work specifically for Apple products are also capable of saving contacts, messages, and app data.

Do iOS Card Reader Products Work With Cloud Storage Applications?
Many iOS users rely on cloud storage to make full use of phone and tablet space. Several card reader models are compatible with cloud storage applications such as iCloud® and Dropbox. This allows you to quickly save data from the cloud without using a device's hard drive space.

Which Type of Port Do iOS Card Reader Models Have?
There are some iOS memory-card readers that accommodate early Apple models. These card readers use the 30-pin port. Most card readers, however, fit the lightning port, which became standard on the iPhone 5, fourth-generation iPads, and all later models.

Add storage for your Apple phone or tablet with a specialized card reader. Staples® offers several options that fit most modern generations of Apple products.
More
Less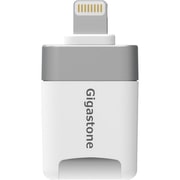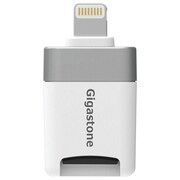 Gigastone Gs-Cr8600-R Ios Microsd Card Reader With Lightning Adapter
Item : 2442670
Transfers movies, music, photos, videos & documents bidirectionally between iPad or iPhone & microSD Card
Carries multimedia files & frees up space from iPad or iPhone by backing up photos & videos on iOS card reader
Backs up entire camera roll, contacts & calendars straight to the iOS card reader