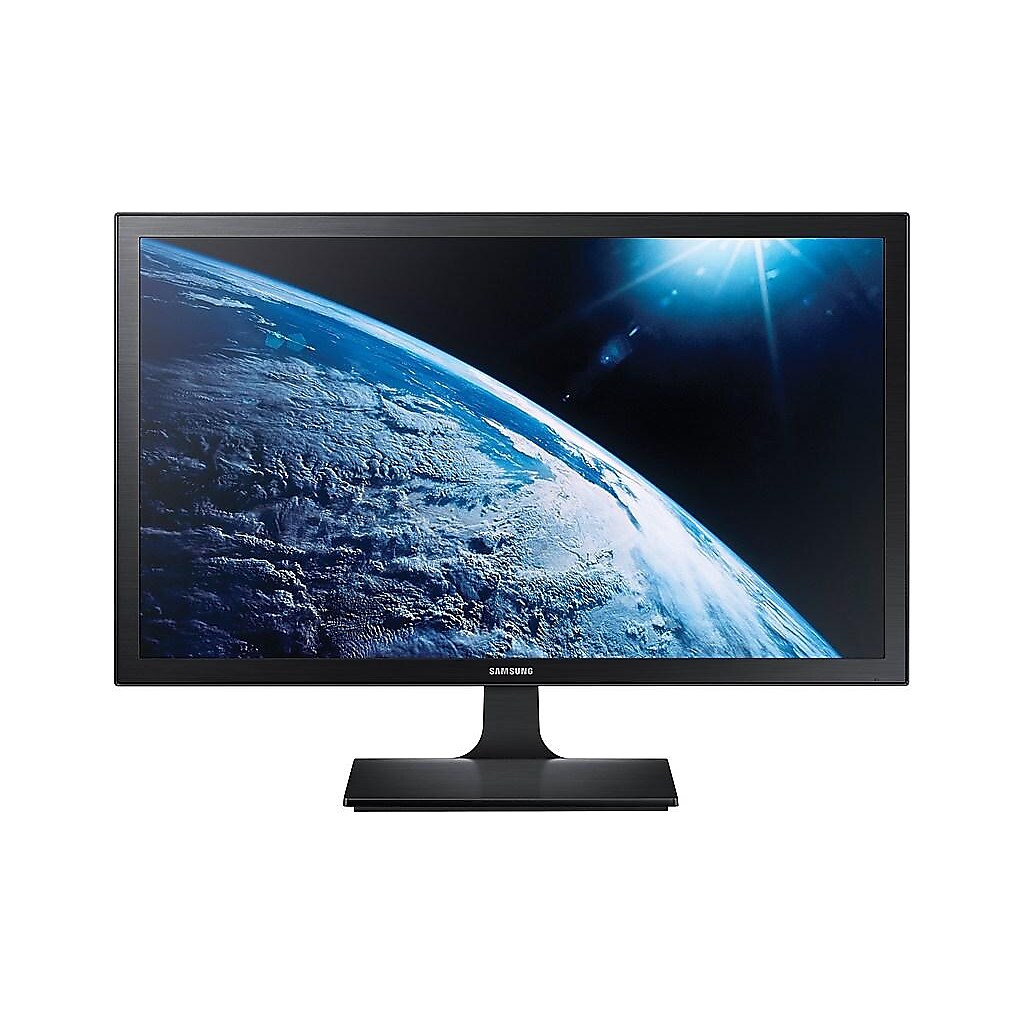 Samsung SE310 LS27E310HSG/ZA 27" LED Monitor, Glossy Black
Item #: 1685234
| Model #: LS27E310HZG/ZA
This item is out of stock for delivery
About this product
Experience stunning visual content with this 27-inch Samsung LED LCD monitor.
Enjoy vivid and immersive action scenes with this Full HD 27-inch LED LCD monitor. With a response time of just 1ms, this monitor displays even the fastest moving video content without blur, ghosting, or stutter, making it an ideal choice for watching action moves or playing fast-paced video games. Equipped with an Eye Saver Mode feature, this monitor helps to limit eye fatigue by reducing blue light emissions and eliminating screen flicker for a more comfortable viewing experience, while wide viewing angles make this monitor a great option for entertaining. This Samsung LCD monitor also comes with an Eco-Saving Plus feature that automatically reduces screen brightness to help to reduce power consumption.
This large format full HD monitor has a diagonal measurement of 27"

TFT active matrix display technology for better clarity

1920 x 1080 screen resolution delivers excellent detail

VGA and HDMI inputs support offers better device compatibility and support

16:9 aspect ratio enables widescreen viewing

Supports 16.7 million colors for vivid visuals

Viewing angle: 170 degrees horizontal, 160 degrees vertical

Overall dimensions: 18.23"H x 25.33"W x 7.9"D

Weighs 10.78 lbs. with stand

Comes in glossy black color

1-year manufacturer limited warranty
Make the most of your entertainment experiences with this Samsung 27-inch LED monitor. Enjoy the large screen and quick response time that work in tandem to make all of the action steady and clear. The eco-friendly design makes it easier than ever to save energy while you appreciate the vivid display that this monitor has to offer.

Speedy Response Time
The monitor's 1ms response time takes the blur out of your favorite films, shows, sports, and video games. It provides steady and smooth motion without sacrificing the crisp visuals that make the monitor a must-have for multimedia fanatics.

Wide LED Display
With a 1920 x 1080 resolution, this monitor produces a crisp and consistent image. It features 160-degree vertical and 170-degree horizontal viewing angles that ensure the picture is sharp no matter where the viewer is sitting.

Eco-Friendly Settings
With the Auto Setting activated, viewers can reduce their energy output and save money while they watch. The Eco-Saving Plus feature decreases energy waste even more by lowering the screen's brightness through fluid transitions.