Navigate to Top
UNIREX® manufactures a range of quality SD card adapters, USB readers and memory cards to suit a variety of needs. Ideal for school, business, and travel, memory cards give users a convenient way to save and transport digital files. A perfect companion for memory cards, card readers and adapters make it easy to retrieve and share essential data wherever you go. Staples® carries several styles of portable storage devices and accessories that work for everyday purposes, educational use, and professional applications.

SD Card Readers and Adapters Suit a Variety of Storage Needs
Most card readers support a range of SD memory card formats, including microSD, microSDHC, and ultra-high speed cards storing up to 32GB of data. Speedy USB technology ensures smooth data transfers, even with large batches of high-resolution images and high-definition video content. Several readers conveniently come with a pre-formatted microSD card and adapter so users can start saving and sharing files right away.

Streamlined SD Card Adapter Designs Offer Portable Convenience
SD card readers and adapters feature a compact design so users can tuck them into backpacks, purses and carry-on bags. USB card readers double as a flash memory stick, allowing users to save files directly to these pocket-sized devices from a range of compatible systems, including laptops, tablets, and desktop computers. Many readers support hot-swapping functionality, so users don't have to reboot their system, saving valuable time and effort.

SD adapters let users plug in microSD cards from a variety of devices, including digital cameras, mobile phones, and gaming consoles. Once connected to a compatible SD port, users can access backups of saved games or retrieve images and videos for printing and editing.

SD Card Adapters Ensure Safe and Secure Data Transfers
SD card readers offer users safe and reliable access to files, even when memory cards are set for read-only functionality. These safety measures help protect sensitive and encrypted data against unauthorized reproduction and accidental erasure, keeping files right where you saved them.

Do SD Card Adapters Work With Other Types of Memory Cards?
SD card adapters and readers are primarily designed to work with microSD and SD cards. However, users may find they work with other types as well. Those looking for a multi-card option should also consider all-in-one card readers that support a broader range of card formats.

Which Operating Systems Support Unirex SD Card Adapters?
Unirex card readers and adapters work with multiple versions of Windows® and the macOS® operating system, allowing users to access memory card data on newer systems and older computing devices alike. While data transfer speeds may be slower on systems running legacy USB technology, files are still fully accessible and secure.

Do SD Card Adapters and Cards Require Special Software or Drivers?
Many card readers and adapters offer instant plug and play connectivity, eliminating the need for updated drivers or special software. Newer systems may prompt for a driver update to support newer USB technology. However, most readers are fully operational right out of the package.
More
Less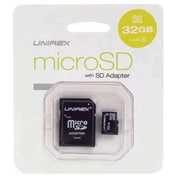 Unirex msd-322 MicroSD Card and SD Adapter
Item : 2120524
MicroSDHC allow larger data storage and provides more optimized performance than regular MicroSD
Compliant with SD card association specifications
Tested to comply with FCC standards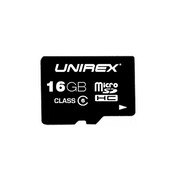 Unirex msd-162 MicroSD Card and SD Adapter
Item : 2120361
Compatible with all Micro-SDHC labeled devices
MicroSDHC allow larger data storage and provides more optimized performance than regular MicroSD
Compliant with SD card association specifications