Navigate to Top
An Energizer® card reader is an excellent choice if you have multiple devices that use memory cards. They only use one USB cord, are compatible with more than one type of memory card, and run on most operating systems. At Staples® you can choose from a variety of SD card readers that are portable and easy to store.

Find the Right Energizer Card Reader for Your Needs
Although most modern computers have an SD or microSD card slot, they rarely cover all the different types of memory storage that are common for storing photos, music, and other digital records. Even if a computer has more than one slot, keeping track of the different cables to transfer files can be tedious. Card readers use a USB connection with either a cord connecting the two devices or are a single unit that plugs into the USB slot. Most external units are faster than internal ones that come standard with a computer.

For quick file transfers and portability, consider a small, compact single unit with a multi-card slot that plugs into any laptop or tablet with a USB port. If the device uses a mini USB port, you can use a USB adapter with the reader to make it compatible. Most models are available with one to five slots. The single-slot units can still read multiple formats.

Choosing a Type of Energizer Card Reader by Format
Always check the model to make sure it supports the different memory card formats that you need. The most common types are the CompactFlash® (CF), Secure Digital (SD), Secure Digital High Capacity (SDHC), Secure Digital Extended Capacity (SDXC), Mini SD, and Micro SD. There are three types of CF cards, and they can store up to 100GB each. Secure digital ones vary by capacity. The SD can store up to 2GB of data, an SDHC holds between 4GB and 32GB, and the SDXC ranges from 64GB to 2TB. The smallest option is the Micro SD. They are 11 x 15 x 1 and weigh less than a gram. A Mini SD has a write-protection switch and can store up to 2GB of data.

How Do You Connect SD Card Readers?
These devices are plug-and-play which means they don't need software to run. To transfer files, you just plug the reader into the USB slot on the desktop, laptop, smartphone, tablet, or even television. Once the transfer is complete, it's safe to unplug the unit and store it away until its next use.

Are Different Operating Systems Compatible With Energizer Card Readers?
Card readers are compatible with most versions of Microsoft Windows, Mac, and Linux operating systems. With this feature, you can transfer files from cameras, smartphones, and music players to older computers without having to buy a new device.

Why Is an Indicator Light an Important Feature for SD Card Readers?
Sometimes you may not push the card in all the way which will cause an error reading. With an indicator light, it's easy to see if the device is working. If the light doesn't turn on, try to push the card in more or remove it and insert it again before moving onto other troubleshooting steps.
More
Less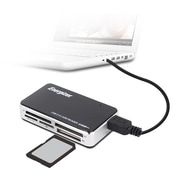 Energizer® Multi-Fit USB 2.0 Digital Card Reader
Item : 456140
Multi-fit USB 2.0 digital card reader for most variations of SD, XD, CF and MS memory cards
Its simple Plug and-play operation is supported by Mac OS and Windows ME, 2000, XP, Vista and 7
Allows quick fast file transfer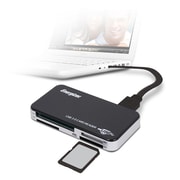 Energizer® USB 3.0 SD Card Reader/Writer
Item : 454923
Dimensions: 2 1/2"(H) x 1 1/2"(W) x 1/2"(D)
4 card slots support most xD-picture card, compactflash and secure digital and memory stick formats, including secure digital high capacity, SDXC, microSD, memory stick micro, memory stick PRO and memory stick duo
USB 3.0 interface offers high-speed data transfer and flexible connectivity, backward compatible with USB 2.0 for versatility