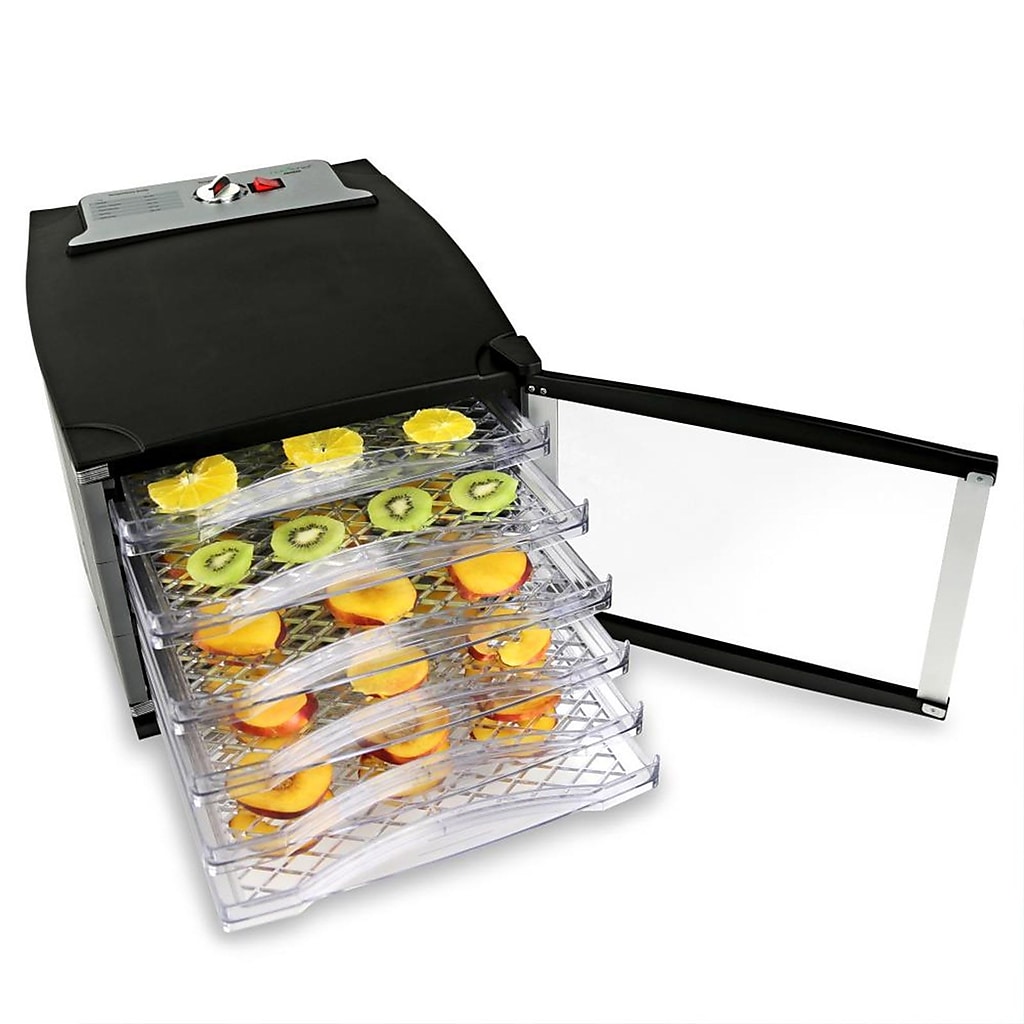 Nutrichef Multi-Tier Digital Food Dehydrator Black (PKFD52)
Item #: 24005049
| Model #: 93598659M
This item is out of stock for delivery
About this product
Multi-Tier Kitchen Dehydrator, Prepare Healthy & Nutritional Snacks for All Ages. Dehydrates Food for Enhanced Preservation. Simple Button Operation with Nutritious Results. Faster & More Efficient Alternative to Food Storage.
Food Dehydrator

Food Tray Size : 14.3" x 11.6" x 0.4"

120V

⚠ WARNING: This product can expose you to chemicals including BBP, which is known to the State of California to cause cancer and/or reproductive harm. For more information, go to www.P65Warnings.ca.gov.
Features: * Multi-Tier Kitchen Dehydrator * Prepare Healthy & Nutritional Snacks for All Ages * Dehydrates Food for Enhanced Preservation * Simple Button Operation with Nutritious Results * Faster & More Efficient Alternative to Food Storage * Effectively Dries Food by Removing Moisture Content * Dehydration Process Retains up to 97% of Vitamins & Minerals * (6) Slide-Out Tier Trays for Enhanced Air-Flow * Convenient Easy-Access Glass Door Panel * Scientifically Tested to Increase Food Shelf Life * Temperature Adjustable Rotary Control * Safe for Placement on Any Table or Countertop * Used for Meat, Fish, Poultry, Fruits, Vegetables and More * Stain Resistant & Easy-to-Clean Technical Specs: * High-Powered Dehydration/Heating: 800 Watt * Temperature Range: 84 - 158 °F (29 - 70 °C) * Food Tray Size (L x W x H): 14.3" x 11.6" x 0.4"* Total Unit Size (L x W x H): 14.6" x 13.8" x 9.8" * Power: 120V