6 Things to Consider Before Buying a New Computer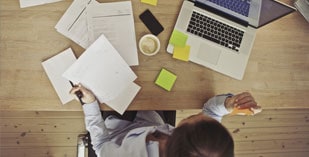 Before you plunk down your hard-earned cash on a new computer, here are six practical factors to consider:
According to April 2015 research by NetMarketShare, various versions of Microsoft® Windows make up 90 percent of the operating system market share, so that's likely the right choice for your business. Windows 7 is the most popular at 58 percent, with the Windows 8.1 netting 11 percent of users. (Owners of machines using Windows 7 and 8.1 qualify for a free upgrade to Windows 10.) Versions of the Mac OS earned just 6 percent of the market share. Some industries favor one operating system over another, but the most important consideration is usability, since Microsoft makes Mac versions of its popular Windows software.
Processor
Processing power is all about speed, so get the fastest one you can afford. That makes your life easier if you're doing standard business functions, but it's a mission-critical factor if you're working with huge files like music, video or big data. Time spent waiting on the computer to do its thing is time wasted.
Memory
RAM (random access memory) is what your computer uses to run programs. Buy as much memory as you can to ensure you've got the power to run programs efficiently and more than one at a time. As software matures, it inevitably requires more RAM — even if all you do is surf the web — so choose a computer with easy access to RAM so you can add more as needed. That's a lot cheaper and easier than buying an entirely new machine.
Hard drive
With the proliferation of high-speed Internet and cloud services, onboard storage capacity is much less important than it used to be. While internal storage is the fastest way to retrieve data (with solid-state drives being even faster than hard disk drives), network-attached storage and cloud drives are gaining popularity because they allow remote access. USB-connected external drives are an easy way to keep information handy, and even transfer it to another machine later.
Monitor
The big-screen craze isn't limited only to televisions. Many people like working on huge computer monitors — and sometimes more than one. An external monitor is also nice if you're using a Chromebook, Ultrabook or convertible — but give them a test drive to make sure the resolution is suitable.
Risk factor
Laptops are great computers for getting work done wherever you need to — in the office, at a conference table or on a plane. But their portability can put them at risk. Whether taken from a desk in your workplace or left in a cab, lost or stolen laptops have the potential to cause big damage to your business. Though both laptops and desktops are easily hacked, it's definitely harder to misplace or make off with a desktop unit. So if you're risk averse, a laptop may not be for you.
Combine your wants and needs for computing functionality with these six additional considerations and you'll take a lot of the guesswork out of choosing the right computer.