Navigate to Top
Dell projectors make it simple to show off presentations, educational information, movies or photos on any flat surface at home or in the office. They include portable products that are ideal for business travelers, advanced projectors designed for permanent installations and short-throw models that work in rooms with limited space.

Exceptional Display Quality
Projectors from Dell use DLP or LCD technology to produce bright and clear color output, with between 3,000 and 5,000 ANSI lumens for most models. They also offer exceptional contrast ratios, which describes the difference in brightness between light and dark areas of the image. This ratio is up to 20,000 to 1 in some cases. Many DLP projectors use BrilliantColor technology from Texas Instruments, which outputs over a billion different colors. This system ensures color accuracy and creates images that look good under typical office or home lighting conditions.

These products also come in a range of resolutions designed to fulfill a variety of needs. Many projectors, including portable models, deliver 1280 x 800 WXGA resolution, which offers excellent image clarity under most viewing conditions. Select products produce full HD 1920 x 1080 resolution output, making them ideal for showing movies or other multimedia materials that use the traditional 16:9 screen aspect ratio.

A Dell Projector for Any Room
When choosing a projector, consider the space available between the planned projector location and the screen. This distance and the Dell projector's throw ratio determine the size of the image it will produce. Devices with a standard throw ratio, typically 1.7 to 1.9, show 20- to 300-inch images from distances of 3 to 40 feet, with larger screen sizes requiring more room. Short-throw projectors require much less space, about 1.3 to 12.5 feet, to create a similar display. Mobile projectors also need very little space, 3 to 8 feet in most cases, but their screen sizes are smaller, at 30 to 80 inches across. They are quite portable and work well in smaller spaces, but may not be the optimal choice for large rooms.

Varied Connection Options
Most projectors from Dell offer several different connection options. Almost all products have one or more HDMI ports, which makes it simple to connect laptops, Blu-ray players and game consoles. Many also have USB ports, VGA connectors, RCA jacks and composite video inputs that provide additional connection flexibility. Serial ports on some models let presenters use a wired remote to control the display. Projectors with 3.5-millimeter stereo audio jacks and built-in speakers simplify audio connections, and a few models have pass-through video outputs that give presenters a private view of their material as they speak.

Advanced Connectivity and Interactivity
Select Dell products are compatible with Intel Wireless Display technology, which lets users share the contents of their screen without cables. Interactive projectors include an electronic pen that provides on-the-fly annotation capabilities, and some models include support for 3-D output that can create incredibly engaging displays.

Projectors from Dell combine flexible connectivity with bright and crisp color output. They include products that will work in almost any room, and they offer interactivity options that are ideal for classroom or meeting use. Explore the Dell projectors available at Staples and find a model that can meet any home or business display need.
More
Less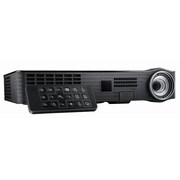 Dell® M900HD WXGA DLP Mobile Projector, 900 ANSI Lumens, 1.59 kg
Item : 1075628
Projector is suitable for office, house, meeting halls or other places to offer large display of images, videos or presentations on screens
Provides a brightness of 900 lumens for brilliant display of the projected images on the screen
Measures 232 mm x 164 mm x 43.0 mm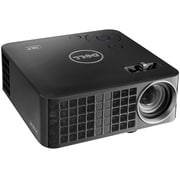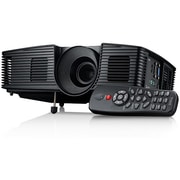 Dell™ 1850 Full HD 3D Ready DLP Projector, Black
Item : IM13F6685
DLP projector with HDMI & USB ports connect quickly to Chromecast, DellCast, Amazon Fire TV Stick & more without additional cables or software
Projection system: DLP
Brightness: 3000 lumens