Navigate to Top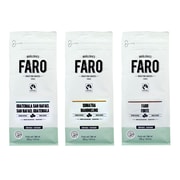 Faro Guatemala San Rafael, Sumatra Mandheling, Forte Espresso Blend Organic and Fair Whole Coffee Beans, 3/Pack
Item : 24117440
Faro Guatemala San Rafael, Whole Coffee Beans - offer a well-balanced coffee with a light-medium roast profile enhancing the bright, sweet aroma and subtle spiced flavor. Complex flavors in this batch roasted coffee make it an ideal after dinner drink.
Guatemala is known for producing some of the most wonderful and aromatic coffee varieties in the world, and these Guatemala San Rafael coffee beans from Faro Roasting Houses are no exception giving yummy coffee every time.
10 oz. bag of whole bean Faro Guatemala San Rafael Coffee features deliciously complex and irresistible aromas of sweetness and Guatemalan spice. Vary your grind to your personal preference and enjoy!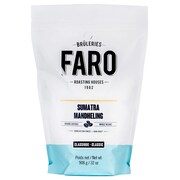 Faro Sumatra Mandheling Whole Coffee Beans (2lbs) Certified Organic And Fairtrade 100% Arabica Beans (P-28021)
Item : 24116555
2 lbs. of the very finest Faro Sumatra Mandheling Whole Coffee Beans from the Indonesian island of Sumatra, named for the indigenous Mandailing people of the North.
Carefully selected and roasted in small batches to ensure quality and consistency of the flavor and aroma profile, and achieve a medium to dark roasted bean.
Our Sumatra Mandheling Whole Coffee Beans are 100% Arabica Beans and are certified Organic and Fair Trade for your peace of mind and for sustainable coffee growing for the future.