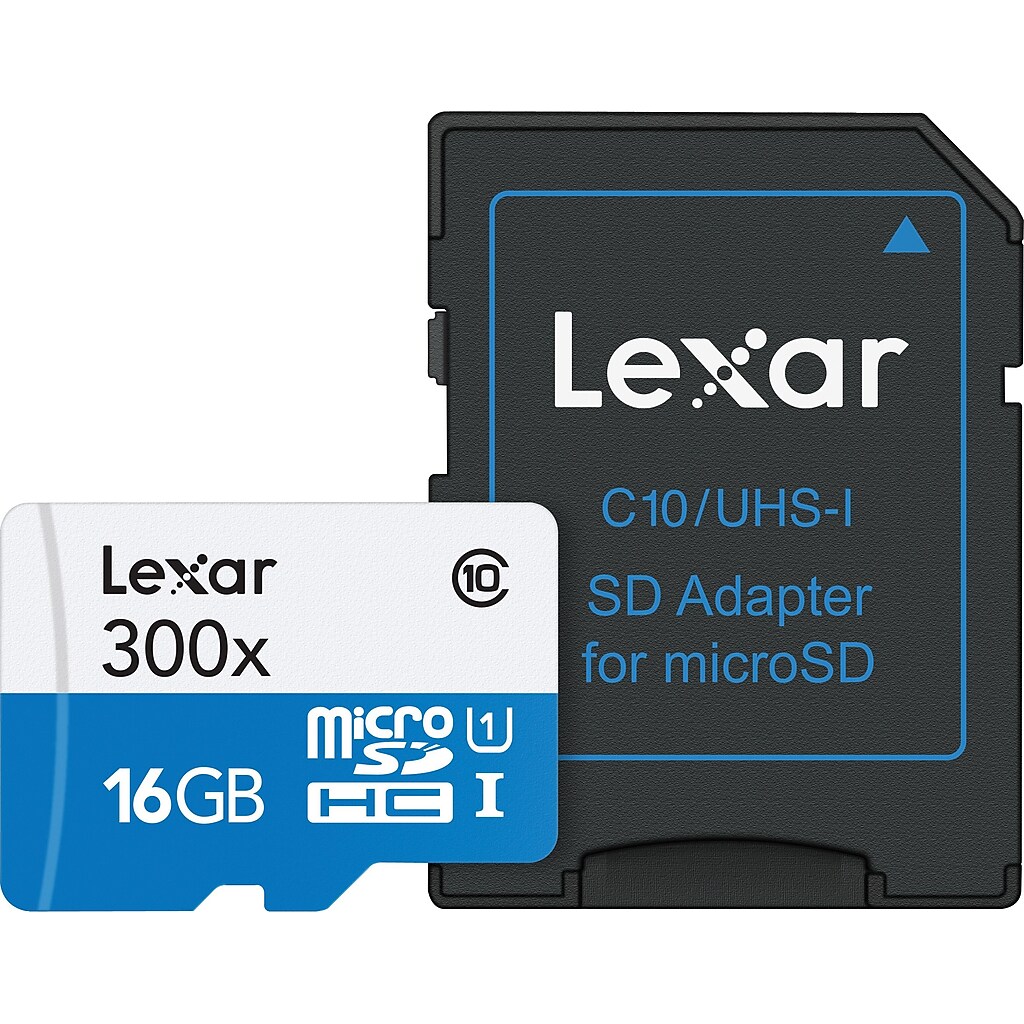 Lexar Micro SDHC 16GB HS 300X
Item #: 1913057
| Model #: LSDMI16G1NL300A
This item is out of stock for delivery
About this product
Lexar Micro SDHC 16GB HS 300X- High-Performance 300x microSDHC™/microSDXC™ UHS-I
Designed for your tablet, sports camcorder, or smartphone, Lexar® High-Performance 300x microSDHC™/microSDXC™ UHS-I cards make it easy to quickly capture, play back, and transfer 1080p full-HD, 3D, and 4K video, as well as the highest-quality movies, photos, and songs. The cards leverage UHS-I technology to deliver high-speed, Class 10 performance up to 300x (45MB/s), and include an SD adapter for easy file transfer. These premium memory solutions give you the speed and space you need to enjoy more of your favorite multimedia on the go.
Premium memory solution for tablets, sports camcorders, and smartphones

Quickly captures, plays back, and transfers media files, including 1080p full-HD, 3D, and 4K video

Leverages UHS-I technology for a transfer speed up to 300x (45MB/s)

Includes high-speed, Class 10 card and SD adapter

High-speed, Class 10 card and SD adapter included for convenience


Substantial Storage Capacity
Each SD card has a generous 16 GB of storage capacity. Save over 11,000 photos on a single card, or film up to 48 minutes of HD video. Film in dazzling 4k video for up to 40 minutes. Storage estimates depend on picture resolution and frame rates when recording.

Flexible and Portable
Micro SD cards are less than the size and thickness of a fingernail, making it easy to keep multiple cards available to switch out when data runs low. Insert the micro SD card into the standard SD sleeve to get the functionality of a standard SD card, giving you more options to use the cards on older devices and download the data on standard card readers.

Fast and Reliable
These class 10 memory cards run UHS-I technology capable of 300x (45MB/s) transfer speeds. Download the entire contents of a full card in less than a minute. Experience smooth performance during demanding tasks, such as shooting 4k video.