Navigate to Top
Flexible folding rulers are useful when measuring a variety of shapes and angles. The durable rulers maintain well in high-traffic areas, like a classroom, and collapses easily to fit inside a pencil case for convenient transport. The rulers are available in plastic and wood, and are purchasable in different sizes to accommodate a variety of tasks. Shop Staples for an extensive variety of office supplies and accessories to help with your next home or work project.

Consider Folding Rulers for Work or School
A folding ruler has multiple pivot points that let the user open and extend the tool to measure the length of an object. The tool also measures different angles, which helps in geometry class or when doing carpentry. A standard engineer ruler is 6 to 8 feet long, so the tool measures tall objects. A universal style prints inches on one side and metrics on the other. Rulers are also designed to allow you to read from left to right on both sides of the tool. Folding rulers are purchasable in several materials, such as aluminum, wood, plastic, steel, and fiberglass.

Customize Folding Rulers for the Task
The tool is a series of rulers hinged together as a unit, and it's a useful implement when measuring large angled spaces, such as a wall corner or entryway. The ruler also easily measures hard-to-reach angles, so it's capable of covering roof slopes, ceiling pitches, and other angled measurements with precision. The tool allows the user to quickly draw parallel lines and mark right angles on a work project. The lightweight tool is easy to carry, which makes it simple to include in a tool belt or backpack when you're at a work site. Shatter-resistant plastic protractors can withstand high-traffic areas, like a math lab.

Are Folding Rulers Useful for Math Class?
Yes. Folding rulers are often used with protractors to measure a variety of angles in geometry, trigonometry, and other fields of math. The tool can be used to calculate and construct shapes and angles for engineering and structural designs. The numbers are often marked by a decimal point to prevent any reading error. Staples does carry a selection of yardsticks and tape measures.

Who Benefits From Using a Folding Ruler?
Engineers, architects, scientists, math teachers, seamstresses, carpenters, and anyone else who uses a variety of measurements on a daily basis. A folding ruler is extendable and can measure extensive distances, but it's also retractable and useful in tight spaces when angles need to be measured. It's a durable, flexible tool in the classroom and on the work site.

What Features Are Useful on Folding Rulers?
Folding rulers can have end caps to prevent the tool from catching on the material when in transport and to safeguard against any breaks associated with consistent use. A ruler that is weather-resistant withstands the elements for a period of time, and this is a useful feature when you're consistently working outdoors. Some rulers have a sheer coating to guard against wear-and-tear associated with regular use. Wood rulers benefit from a regular rub with mineral oil to help maintain the structural longevity of the tool.
More
Less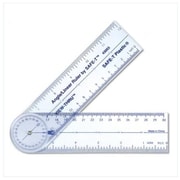 Learning Resources® Angle/Linear Ruler
Item : 883083
Age group and grade: Ages 8 - 13
Usage ideas: Versatile ruler with black markings is perfect for construction and measurement of angles, triangles and other geometric shapes
Size: 12"(L)