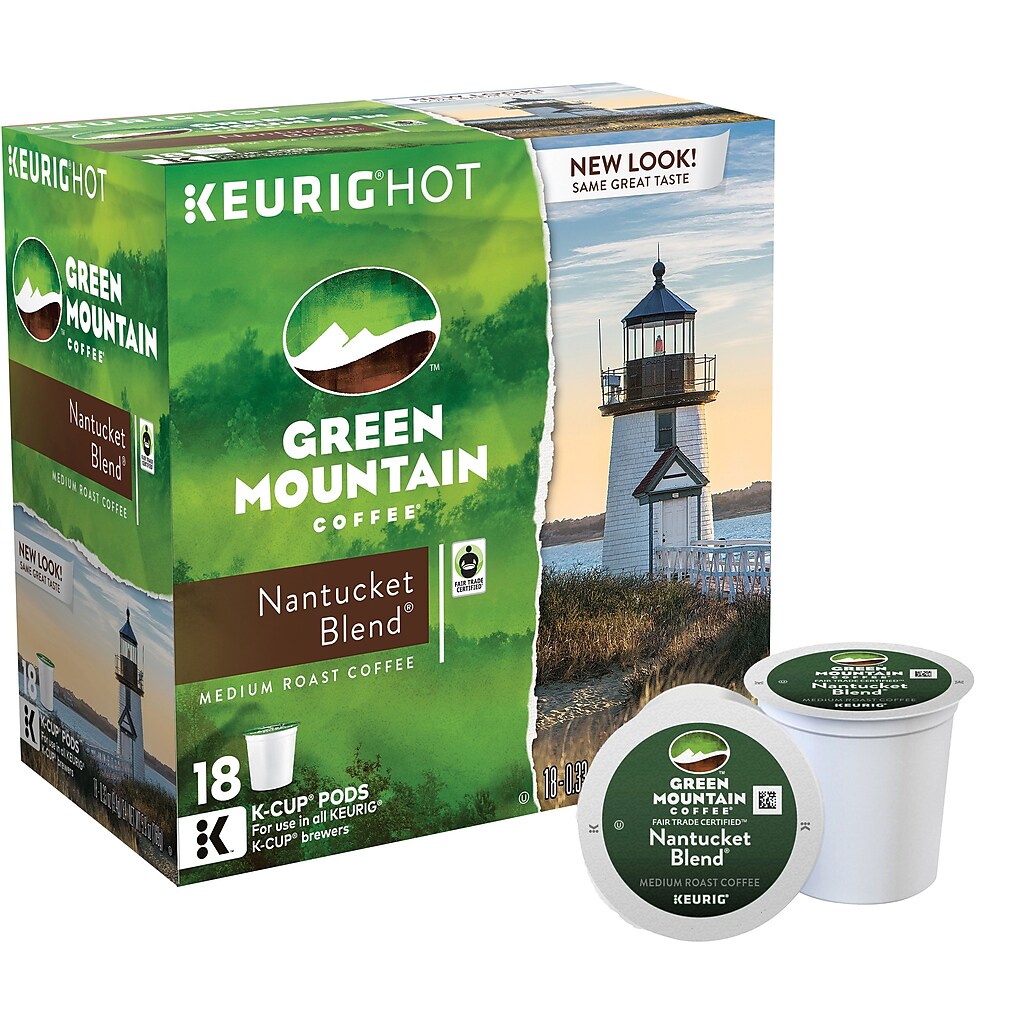 Green Mountain Nantucket Blend Coffee, K-Cup® Pods, 18/Bx
Item #: 744149
| Model #: 663
This item is out of stock for delivery
About this product
Keurig K-Cup Green Mountain Nantucket Blend Coffee- Roasted and blended to create a cup of exceptional character
Keurig® K-Cup® Green Mountain® Nantucket blend coffee in regular pack brewed either 6/8/10 oz beverage. Coffee blends African beans with berry/wine flavors, the Centrals add zest, the Indonesian beans and French roasted, sold as 18 per pack.
Individually wrapped Keurig® K-Cup® pods s

18 Keurig® K-Cup® pods per pack

Green Mountain Nantucket Blend Coffee

A great way to get a great tasting hot beverage without the mess

Depending on machine, will brew either a 6, 8 or 10 oz. Beverage

Easy clean up, no drippy coffee filters or tea bags

Product is Kosher

Compatible with all Keurig Brewers including the Keurig 2.107

Keurig K-Cup Green Mountain Nantucket Blend coffee gives you the great taste of a popular blend of Green Mountain coffee in a convenient single-serving pod. Simply insert it into your Keurig coffee brewer, and fill your machine with water to get a great-tasting cup of hot coffee.

Great Taste
The coffee in this Keurig K-Cup is the renowned Nantucket Blend from Green Mountain. It combines four varieties of coffee from three continents for a distinctively great taste. It is a medium-strength brew that everyone in your office will enjoy.

Super Convenient
You don't need to worry about spilling loose coffee or disposing of coffee grounds with Keurig K-Cups. These are single-use pods that you insert in your Keurig coffee brewer for a perfect 6-, 8-, or 10-ounce cup of coffee depending on the model of your machine.

Certified Kosher
You can offer this coffee to anyone who works in or visits your office. It is certified kosher, so even those who observe dietary laws can enjoy its great taste.